As you probably know by now, Solar Impulse, the solar-powered airplane, built and piloted by a Swiss team led by André Borschberg and Bretrand Piccard, landed safely at JFK International Airport in New York at 11:09 p.m. Eastern time on Saturday. The landing took place three hours earlier than originally scheduled after a tear in the wing material occurred and the team decided to forego a planned flyover of the Statue of Liberty.
There's a great video of the landing on the Solar Impulse website, with a jubilant Borschberg and Piccard wearing yellow scarves as a tribute to Antoine de Saint-Exupéry, the author of "The Little Prince." The scarves were given to the pilots by the Saint-Exupéry Youth Foundation in honor of the 70th anniversary of the book's publication in 1943.
And a Tuesday morning update — a picture from my Twitter feed of NASDAQ welcoming a visit from Borschberg and Piccard in New York.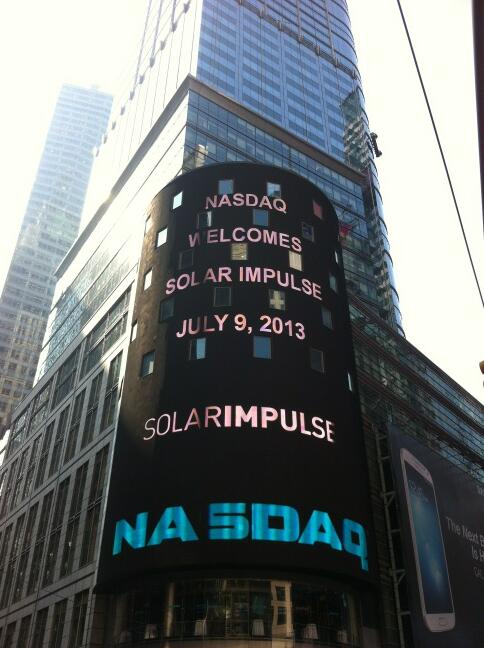 Getting back down to earth — the World Meteorological Organization's recent report, "The Global Climate 2001-2010, A Decade of Climate Extremes," has gotten a lot of press, including my Green Desert column on Sunday. But, as Joe Romm at Think Progress said in a recent column, that has not stopped major newspapers such as the Washington Post from publishing columns by climate change skeptics containing incorrect or skewed views of the science.
Rather than re-debunk the debunkers, Romm cross-posted a recent column by Dana Nuccitelli from Skeptical Science, digging into ongoing claims by climate change skeptics that global warming has slowed or paused.
"It would be more accurate to say that global surface air warming has slowed, but the overall warming of the Earth's climate has sped up.  Only about 2% of the planet's overall warming heats the atmosphere, so if we focus only on surface air temperatures, we miss 98% of the overall warming of the globe," Nuccitelli writes. The great graphic below comes from Skeptical Science.
The article notes that scientists now believe that surface air warming has in fact slowed due to "more efficient transfer of heat to the deep oceans."  Studies indicate that this will be temporary and ultimately lead to accelerated surface air warming.
"However, given that the overall warming or heating of the planet continues at a rate equivalent to 4 Hiroshima atomic bomb
detonations per second," Nuccitelli writes, framing the issue as a "pause" is inaccurate and misleading.
Skepticalscience.com looks like a great forum for vigorous discussion of the science surrounding climate change.
The site's raison d'etre is laid out on its page for newcomers, noting that climate change skeptics tend to cherry-pick data, looking at small pieces of the puzzle while ignoring the bigger picture. That, the site said, is not true skepticism which involves  not taking others' word for any data but investigating things yourself — an ethos which is integral to all science.
The site has even developed its own smart phone apps which list the arguments most frequently used by climate change skeptics and provide the scientific bigger picture — perfect for cocktail party, family reunion or water cooler debates.
Yup, I'm downloading mine right now.
Previous Article
Next Article
Share your thoughts