Solar Impulse pilots André Borschberg and Bertrand Piccard were at NASDAQ in New York Tuesday, and the occasion was duly noted with picture that came in on my Twitter feed.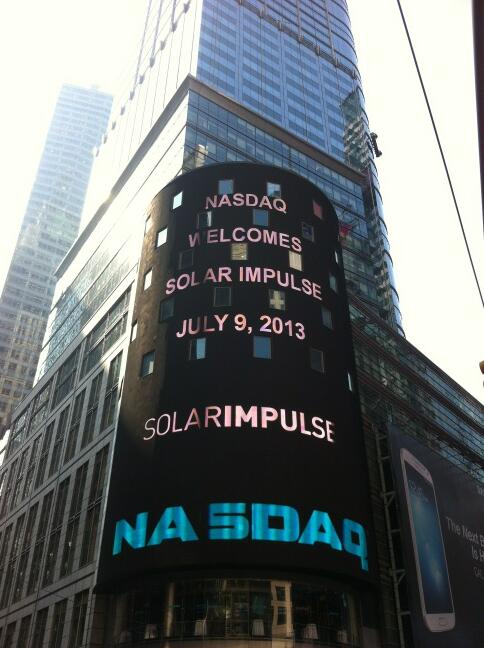 Gotta love it. Everyone wants to get a bit of the Solar Impulse buzz.
In the meantime, as the Solar Impulse flight across the U.S. comes to an end, another climate change adventure has just started.
Four men are rowing through the Northwest Passage — a trip made possible by the dramatic decrease in Artic ice — to call attention to the impacts of climate change. The boat, in a picture from the expedition website, is called the Artic Joule.
Here's the route the men started rowing on July 3 and you can also follow their daily progress on the website.
The expedition is being sponsored by Mainstream Renewable Power, an Irish energy company.  The crew is Canadian and Irish — Kevin Vallely and Frank Wolf from Canada and Paul Gleeson and Denis Barnett from Ireland.
Others have crossed the passage, but never in one season, according to the Mainstream website.
What unites the Arctic Joule and Solar Impulse clearly is the sense of adventure and creativity that so many people are bringing to efforts to draw attention to the impacts of climate change and the need for new and daring human and technological breakthroughs to find solutions to the problem.
Previous Article
Next Article
Share your thoughts